Small home and apartments are a challenge to decorate as they either turn out cluttered or seem smaller than they actually are. If you own a small house, apartment or even a room that you are sharing with roommates, here are all the tips you need to know on how you can make it look bigger than it seems.
COLOUR
1. Choosing the colours on the lighter spectrum.
By choosing lighter colours, it transform the room to feel airy, unlike dark colours which absorb light instead of reflecting it.
Choose a selection of lighter colors like:
2. Buy furniture with the same colour as the wall
This will make them blend in and widen the space of your small home.
3. Use different shades of the same colour
Using different shades of the same colour creates a visual coherence that makes space feel open.
4. Paint your ceilings in a bright colour to make it pop
This will drive the eyes upward, and create the illusion of a high ceiling.
INTERIOR
1. Consider a striped floor
Which will make your room appear longer as if it can go on forever, and ever and ever.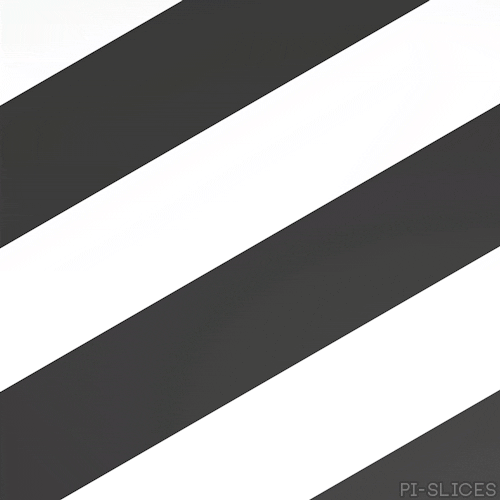 2. Consider see-through furniture 
It fools the eye into thinking there is more space than there actually is.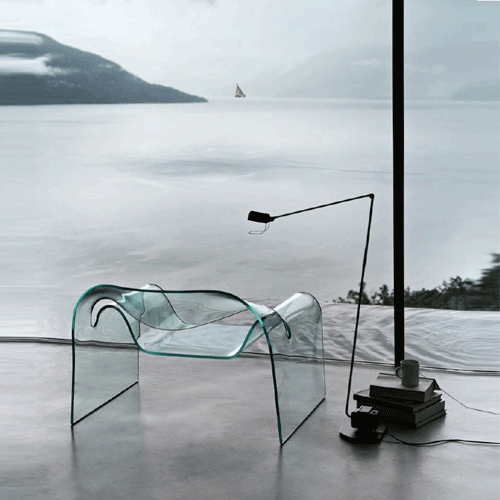 FURNITURE 
1.Get the right scale 
Measure your room to know which size of furniture to buy, to make sure everything fits together in terms of scale.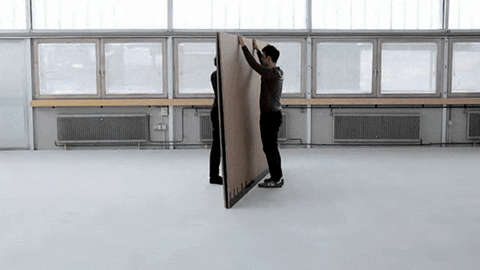 2.Utilize hidden storage or multi-functional furniture 
Buying multi-functional furniture can save space in your room in smaller apartments.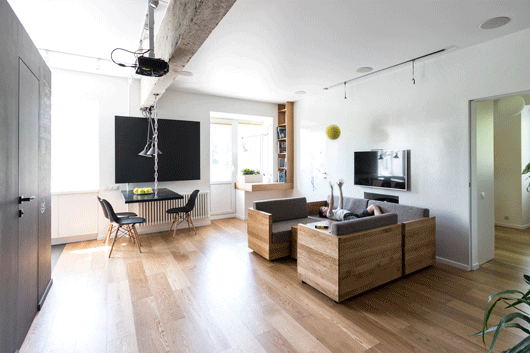 3. Buy furniture that will fill up the length in your room
This will create the illusion of a long room.
4. Choose furniture with exposed legs
To give the illusion of a larger space.
5. Television Placement
Mount your television on the wall to free up floor space.
DECORATIVE ACCENTS & OTHERS
1. Curtains
Hang floor-to-wall curtains to make the ceilings look higher. 
Don't forget to choose curtains that are the same colour as your wall because it will make your small house's space look bigger.
Another trick is to go with sheer drapes for your small house.
2. Go BIGGER!
Buy one larger decorative item instead of many small ones. This will prevent your room from looking smaller and cluttered.  
Another tip is to display large-scale art instead of small ones, however, if you want smaller ones, focus on one wall.
3. Use rugs to define the spaces 
Rugs help create the illusion of more square footage and also helps the room feel finished and pulled together.
4. Mirrors
Mirrors help bounce light from windows and create the illusion of more square footage. 
For a small house, one good way is to place it on a darker spot/wall that doesn't get much natural light.
5. Remove all clutter
Ensure items such as computers, ironing boards, bookshelves, laundry baskets, and excess furniture are put away nicely.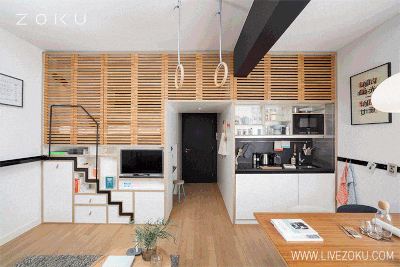 Be proud of your home and decorate the walls with the colours of your life!
And with IQI and IQI Concept, we have a dedicated team to help you find that inspiration within.
You can also check our previous article called 6 Easy DIY Home Decor Projects.
This is a collaboration article with IQI Global. This article is written by Jasmine Ju Ju
Related article: What Malaysians need to know about Chinese New Year in 2020
Related Posts